GREEN JOB TRAINING AND COMMUNITY SUSTAINABILITY RESOURCES
ABOUT UnitedGREEN
Heartland has been involved in development and presentation of courses in productivity, communication, organizational finance, business incubation, and a huge disaster relief effort after the 2003 San Diego Wildfires. In October of 2007, Heartland created a sister organization, UnitedGREEN to support the agency's green initiatives and green education events. (After the 2007 San Diego Wildfires, UnitedGREEN assisted fire survivors in rebuilding green.) Since 2007 the UnitedGREEN division of Heartland has presented a series of Green events focused on green energy, green building, and green jobs. The first meeting was a Green Symposium at Thoryk Ranch on May 5, 2007. The next event was at UCSD on October 29, 2007 and features Ed Mazria who gave an illustrated presentation "Designing and Building a Sustainable World." On October 18, 2008 the program was entitled "The Green Economy." In November of 2011 Heartland and UnitedGREEN held the Forging a Sustainable Future Part I event at Qualcomm Auditorium. This year, the Forging a Sustainable Future Part II was held at SDSU on March 3-4, 2012. More than 300 attendees enjoyed a wealth of world class speakers including Robert F. Kennedy Jr. as the keynote speaker. The residential aspect of sustainability was demonstrated at last week-end's Heartland-sponsored, "Clean Up, Green Up" Block Party attended by more than 50 volunteers.
CONFERENCES AND WORKGROUPS
Heartland and its partners regularly sponsor symposia, think-tank panel discussions and informational presentations which serve to increase awareness and involvement in the issues facing the various regions of San Diego County, the United States, and the Earth as a whole by bringing together experts, policy-makers, business leaders and private citizens to address strategic and specific challenges to ensuring environmental, economic, and cultural sustainability.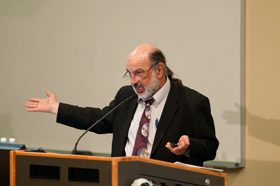 One of the most popular speakers at the Forging a Sustainable Future conference, Richard Anthony with Zero Waste San Diego, shared his strategies for a leaner, cleaner, more sustainable San Diego.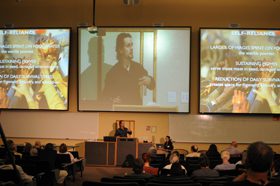 Steven Wright shown sharing his wealth of knowledge at the Forging a Sustainable FutureConference on the status of the planet's resources.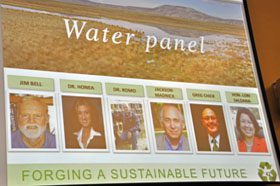 Compelling poster showing the issues and speakers for the Forging a Sustainable Future Conference Water Panel.
JOB TRAINING AND PLACEMENT
Heartland assisted 87 San Diego residents with OSHA and HAZWOPER training to prepare them for jobs in the Gulf of Mexico after the April oil spill. Heartland provided transportation and living expenses for San Diego residents who went to Louisiana to assist with the cleanup efforts.
Heartland formed Pathways Out of Poverty and Project GreenSmart as key agency components. Partners included three community college districts, San Diego State University, UCSD, the Urban League, Job Corps, the MAAC Project, Able-Disabled Advocacy, Sustainability Alliance of Southern California, Syzygy Technologies, McMillin Development, LMI of San Diego, UnitedGREEN Industries and 25 others. State of California Job Corps members worked under the tutelage of Heartland mentors to Green Retrofit of distressed properties and make them available to first time homebuyers. Heartland's Project GreenSmart was featured on the Better Giving Website of the San Diego Foundation.
VISIT THE UNITEDGREEN WEBSITE:
Robert F. Kennedy, Jr from Willie Williams on Vimeo.